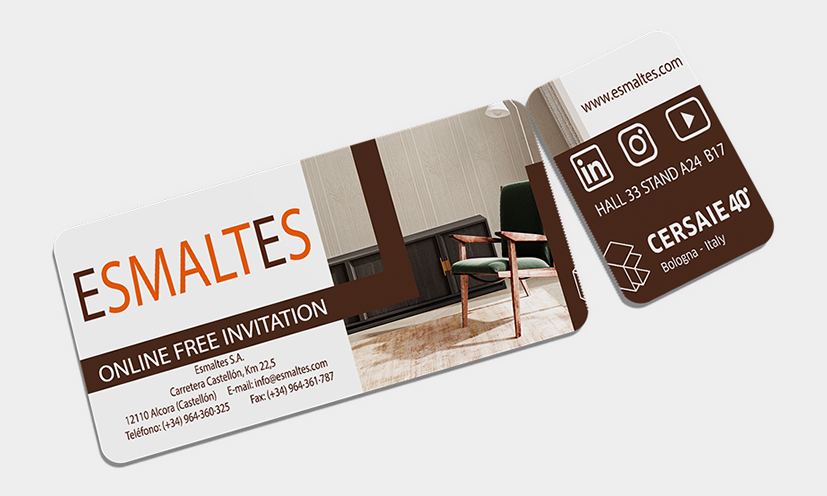 ESMALTES SA présente ses innovations céramiques au CERSAIE 2023
Bologna, Italy ESMALTES SA is proud to announce its participation in the next edition of CERSAIE 2023, the most prestigious international ceramics fair in the world. The event will take place from September 25 to 29, 2023 in Bologna, Italy, where we will present interesting developments in product and design applications that are intended to improve processes in the ceramics industry.
At CERSAIE 2023, ESMALTES SA will be located in Hall 33, Stand A24 B17, where visitors will have the opportunity to explore our latest innovations and discover how our solutions can transform ceramic projects into masterpieces. Our team of experts will be available to answer questions and offer personalized advice on how our products can improve your design and manufacturing projects.
Our news includes:
– Cutting-edge Glazes: We will present a range of cutting-edge glazes that offer exceptional technical and aesthetic characteristics, perfect for high-quality ceramic projects.
– Digital Technology: We will show how our innovative technology can simplify the glaze application process, obtain new decorative effects and improve production efficiency .
– Custom Design: Discover how our customizable polishes can help bring your creative and unique designs to life.
– Sustainability: At ESMALTES SA, we are committed to sustainability, and we will present environmentally friendly products that comply with the latest environmental regulations.
At ESMALTES SA, we are proud to be at the forefront of the ceramic industry, and CERSAIE 2023 is the perfect platform to share our innovations with professionals and enthusiasts in the sector. Don't miss the opportunity to join us at this exciting event and discover how ESMALTES SA can take your ceramic project to the next level.
If you are interested in learning about our latest developments and exploring how ESMALTES can enhance your ceramic projects, we invite you to visit us at CERSAIE 2023. We look forward to welcoming you to our Stand A24 B17 in Hall 33! Mark the dates on your calendar: September 25-29, 2023, in Bologna, Italy. Don't miss this unique opportunity! For more information and to make an appointment with our team at the fair, do not hesitate to contact us at info@esmaltes.es or at +34 964 360 325. ESMALTES SA is excited about its participation in CERSAIE 2023 and hopes to meet everyone interested in discovering the future of ceramics. See you in Bologna! Click on the image to get the invitation: